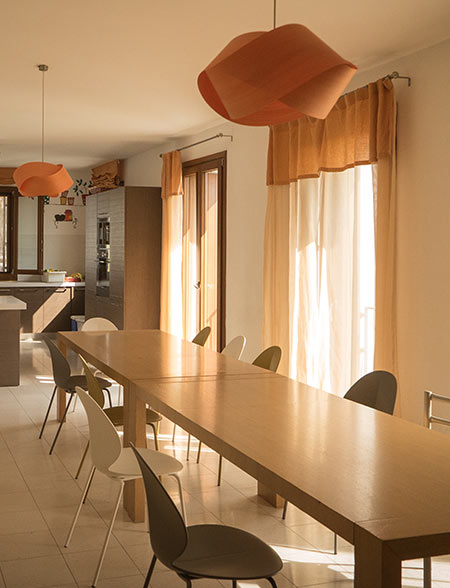 The project
Fondazione Villa Russiz welcomes disadvantaged minors at Casa Elvine. This family- type home has an educational programme based on evaluation of its young guests' concrete situation and condition of vulnerability and/or abandonment.
Educational initiatives demonstrate a particular awareness of the differences in individuals' development processes and aim to give disadvantaged youth a good start in life. The goal is to develop their capacities and resources and prepare them to play an appropriate, gratifying role in society.
Educational programmes for minors are based on the following pedagogical tools:
Planning of education
On-going observation and analysis of the child's needs lead to formulation of an individual educational plan, which may be changed as it proceeds, supported by the educator's constant affective support.
Teamwork
Minors in the Group Home are assisted by adults and service providers with a variety of different roles and tasks; it is essential to work together, to give children a sense of security and protection and permit harmonious development.

History
1891

Countess Elvine Ritter de Zahony of Gorizia founded an evangelical school for poor children in Russiz, also admitting Catholic girls, at a time when elementary school was strictly for boys. In subsequent years the institution's education, social and welfare activities were expanded to include a Fröbelian nursery, an evening school, a music school and a reading room.

1916

When Elvine died during the First World War, Villa Russiz became a military hospital, just behind the Italian front. Countess Adele Cerruti worked here as a Red Cross nurse, and the place soon became her life-long mission. She made a decisive contribution to the reconstruction of the estate after the war while continuing Elvine's ethical and charity work.

1926

On February 21 Elvine's will was recognised by the Kingdom of Italy, and Villa Russiz was named a charitable foundation, with approval, on May 11, 1928, of the statute of the "Regina Margherita" orphanage, directed by Countess Adele Cerruti with great dedication until her death in 1945, after which it was named after her: Istituto Orfane di Guerra "A. Cerruti".

1974

On June 25 the name of the institute was changed to "A. Cerruti – Villa Russiz", and starting in 2009 Villa Russiz took on the legal form of a non-profit association. But whatever its legal status, the institute has an uninterrupted history of receiving, serving and educating disadvantaged children.

2012

"Casa Elvine" Group Home was established, authorised to host 16 minors and equipped with all the facilities required to support and educate them. Fondazione Villa Russiz manages the property and estate today, investing the proceeds in the Group Home.

Locations
Casa Elvine
Casa Elvine has 9 rooms and 16 beds. A lift ensures disabled access. A renovation project which began in 2005 and was completed in 2012 focused on the figure of the child, who must not feel like a guest but perceive Casa Elvine as his or her home. Casa Elvine has one kitchen on each level, two recreation rooms, a clinic, a computer room, a library, and an apartment for sheltered meetings and emergency accommodations.
Historic location
The "Chapel of Villa Russiz, home, orphanage, laundry and courtyard" is an architectural complex built by Countess Elvine Ritter in stages on the basis of the older layout of the stately home (described in the "Sommarione catastale napoleonico" land registry of 1811), which is believed to have been built over an older "palazzàt", a country home that was presumably fortified, the existence of which is documented as far back as 1590, when it was included in the dowry of Diamunda d'Attimis.